AFP Offers More than a Good Lunch!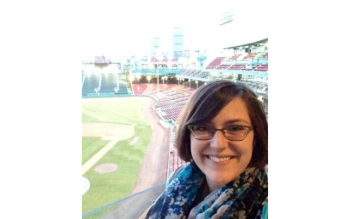 Your AFP membership offers so much more than a once-a-month opportunity to hear a great speaker!  Just ask Heidi Boyd, CFRE, and Associate Director of Individual Giving Wisconsin Humane Society.
Besides attending two International conferences with the support of AFP scholarship funds, Heidi has gained confidence as a fundraiser, built friendships and experienced professional growth by engaging with AFP in multiple ways throughout her career. Here's some of what she had to say:
"Why did I join AFP? Early in my career, I worked in small shops and was often the only Development staffer – and AFP provided not only the tips and tricks and educational resources to help me learn how to do my job well, but also the camaraderie and necessary support through an amazing network of colleagues. I participated in the Mentorship program and was paired with the perfect match for me – Jean Gurney. Jean guided me through everyday fundraising and overarching career decisions, usually over a delicious lunch and a few good laughs.
Now that I work for a larger organization, my role is more narrowly focused on major gifts and planned giving, so (my last) conference experience was shaped by goals I set ahead of time to focus very specifically on these two topics. I was also far more comfortable networking with other conference attendees – and used skills that I had practiced and honed by attending our local chapter's luncheons and education sessions. 
Finally, being a member of the local AFP chapter and serving on the Education Committee inspired me to pursue my CFRE.  I am proud to say I am a Certified Fund Raising Executive, and I know that the learning has only just begun as I continue to work in this amazing profession of ours."