What Does Inclusion Mean?
Hint: You'll have to work at it.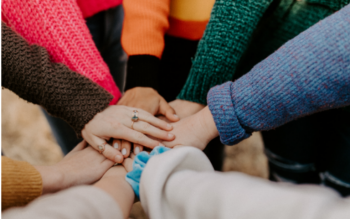 Opening your arms is not enough.  People feel included only when you truly invite them in and make them feel welcome.
That's a good thing to remember – especially for those of us who have volunteered to help lead AFPSEWI's commitment to stand up for inclusion, diversity and equity in more meaningful ways.  
Like many organizations, the Board of AFPSEWI issued a statement earlier this year calling for greater attention to inclusion and equity.  Like many organizations, we're now facing our "put up or shut up" moment, when we must turn words into action and make marginalized people feel welcome in our chapter.
As I say, inclusion is a two-step process: It starts with understanding those you're trying to include, then making the effort to demonstrate they're welcome.
Here's an example.
More than 100 people have let their AFPSEWI membership lapse in the past year.  We don't know exactly what's to blame, and that means we're failing the "inclusion test" with them – because inclusion means we would ask why they've dropped out.  Job loss/job change, smaller budgets, lack of AFP follow-up, and uncertainty about the future could all be to blame...but the point is that an inclusive organization would ask why.  We plan to ask more of those questions in 2021 and then figure out ways to address the challenges we discover.
But understanding is not enough.  The "inclusion two-step" demands reaching out and taking action.
My point is that making someone feel included requires active communication, not just good intentions.
In the coming months, AFPSEWI will explore how it can becoming more welcoming to others – perhaps identifying and contacting people and organizations that might benefit from AFP resources and services to see if we can help.  Would those actions be valued?  We'll have to ask – because asking is where the understanding starts.
My bottom line:  I appreciate your reading this article about what inclusion might mean for our AFP chapter.  But reading does not bring us closer to that goal -- we're going to have to work at it.  That means real inclusion is not a policy our Board of Directors can simply enact; it's an ongoing effort by every member to make those outside of our circle feel included.
---
Submitted by Rikki Harry, Senior Manager of Individual Giving, Pathfinders, and AFPSEWI VP of Membership & Diversity.  Click here to learn more about AFPSEWI's year-round commitment to inclusion, diversity, equity, and access.