Memorable Moments from the Podium - National Philanthropy Day Honorees Inspired with Actions and Words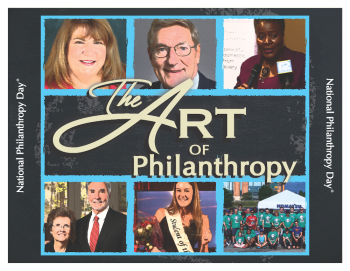 More than 450 community leaders gathered at AFPSEWI's National Philanthropy Day celebration at the Pfister Hotel on November 12, hoping to be inspired by this year's honorees.  Those receiving the six awards did not disappoint, as affirmed by some of the outstanding quotes from their words of thanks:
"The magical moment is when the donor says, 'I want to help.' The magic is not about how I feel, it's about the way they feel…. How lucky am I…how blessed am I...to do what I do." 
Penny Gutekunst, Vice President of Development, Zoological Society of Milwaukee
Scott M. Cutlip Professional Fundraiser Award
Nominated by Zoological Society of Milwaukee
"Through your efforts, you are creating an improvement in the lives of people. That may be a loss definition of an art, but certainly goes beyond music, painting, etc. and philanthropy can play and does play a role in creating things and changing things. I have arranged for my support for Children's Hospital to continue after my death.  Frankly, I hope they will not receive it too soon…"
Bernie Kubale, volunteer and donor
Leave a Legacy Award
Nominated by Children's Hospital of Wisconsin
"I am humbled by the work of those in development.  I know the passion that goes into what you do."
John Koetz, President of Surface Mining, Komatsu
Wisconsin Organization Philanthropy Award
Nominated by Milwaukee Habitat for Humanity
"Who you are is because of where you are.  We have spent our lives in Milwaukee and have seen the community's continuity.  Congratulations to the fundraisers, for what you've accomplished for so many institutions over the years."
Peter and Joan Bruce
Evan P. Helfaer Donor Award
Nominated by Alverno College and Greater Milwaukee Foundation
"I turned my feelings of anger over my dad's illness into the drive to make a difference. Now I live out that commitment by helping other students get involved in philanthropy."
Hannah Reynolds, student philanthropist
Philanthropic Youth of Today Award
Nominated by the Leukemia & Lymphoma Society
"We all can be a part of the power of unity in this city, state, nation, world…Everyone in the sound of my voice, I commend you to make a difference!"
Thelma Sias
Todd Wehr Volunteer Award
Nominated by Children's Hospital of Wisconsin and Sojourner Family Peace Center
Adding to the day's inspiration were the dozens of "Partners in Philanthropy" who attended the luncheon.  Many AFP members took advantage of this stewardship opportunity by nominating two of their most deeply appreciated donors for the Partners in Philanthropy recognition.  A full list of those recognized can be found here.
Lastly, AFPSEWI would like to extend a big congratulations to our inaugural Impact Award recipients:
Representation of Mission - Sojourner Family Peace Center
Stewardship & Donor Engagement - Cedar Community
Innovation - Girl Scouts of Wisconsin Southeast
AFP extends its deepest thanks to all those who worked on, attended, and sponsored this year's event.  Our community's spirit of philanthropy begins with you!
Special thanks to our Presenting sponsors