2020 VIRTUAL EVENT: Reclaiming the Relational Work of Fundraising in a Digital Age
Although a vibrant digital presence is essential today, organizations settle for so little when mere online connections take the place of authentic relationships developed around shared values. This was the topic of the Fundraising Day Wisconsin 2020 webinar presented by Otto Reinisch. For the first time, Otto presented powerful fundraising and nonprofit leadership lessons within the context of life in today's pandemic. Emphasis was given to engaging board members in the fundraising process by cultivating meaningful donor relationships ...and they don't need to ask for money.
To learn more, we invite you to watch the event recording.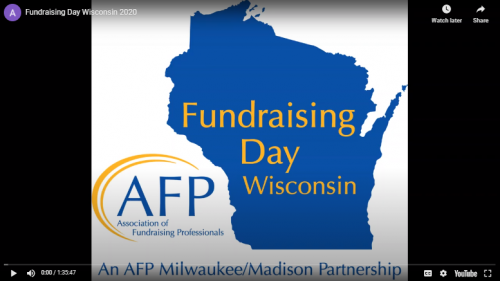 Download the presentation slides
ABOUT FUNDRAISING DAY WISCONSIN
Bringing National TALENT to your backyard
For six years the Southeastern WI and Greater Madison Association of Fundraising Professionals Chapters (combined membership of 500 fund development professionals) have presented a one-day conference. Simply the best professional education value in Wisconsin!
A day jam-packed with professional development, including an opening keynote, twelve workshops, networking luncheon with a keynote, and social hour. Offering the opportunity to network with over 400 fundraising colleagues from around the state and connect with vendors and consultants who can help your fundraising grow.
Fundraising Day Wisconsin has always been a place for us to come together and devote time to building relationships and enhancing our professional development. AFP Southeastern Wisconsin and AFP Greater Madison are committed to being a resource for you. We hope to be back together in person in 2021!