APFSEWI's New Board Members express high hopes?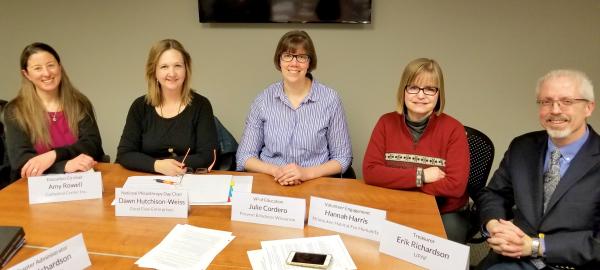 AFPSEWI welcomes seven new board members in 2019!  Given the excitement and lofty goals they have expressed, AFPSEWI is confident these leaders will make a lasting impact and enhance the AFP experience for all chapter members.
Julie Cordero said she's excited to join the board and to serve as Vice President of Education.  She says she has her sights set on "Helping provide a series of educational events that offers something for everyone and appeals to the diversity of our chapter – something for the new kids on the block, and something to keep the seasoned veterans coming back for more." If Julie has her way, it seems AFP members can expect fun educational events that make them better fundraisers. "As board members, I think it's our job to help bring a level of respect and understanding for the whole philanthropic community," she continues.
I'm here for the opportunity to help grow the sense of pride and prestige for the professionals in our field," new treasurer Erik Richardson says.  In a profession where academic credentialing has been minimal, fundraising educational resources and community networks are essential, he says. 
New board members look forward to sharing ways that professionals can have personal success and build their network.  "I was struggling to connect with people at educational luncheons and/or stay connected with my tablemates after the luncheon ended," said Cordero.  "Serving on both the Marketing and Education committees has provided me with a strong network of people that I can call on to problem-solve with, share the joy of my success and commiserate together when we're struggling. Fundraising can be a very isolating journey, and AFP has brought me out of the isolation and into the joy."
The new leaders urge chapter members to take advantage of everything AFP has to offer. Dawn Groshek, President-Elect, spoke passionately on this idea.  "Get involved. Attend monthly educational sessions. Go to the socials. Make the investment in YOU! Get to know other fundraisers - you never know when you will need to partner on a project or need advice from others outside your organization."
New board member Amy Rowell went a step farther and advised members to get involved as AFP volunteers.  "I wish I would have gotten involved sooner. I didn't think I was knowledgeable enough or that my previous organizations were big enough or that I was far enough along in my career.  I wish I had realized years ago that AFP could benefit with from leaders of all experience levels and organization sizes.  With more new fundraisers engaged, we'll be better able to serve our members."
We are pleased to welcome this esteemed group who is so committed to giving back and ready to change the world with a giving heart!
Meet Your New Board of Directors!
Lisa Breitsprecker, CFRE - Senior Development Officer, Mount Mary University– AFP Vice President of Membership & Diversity
Julie Cordero - Director of Development, Prevent Blindness Wisconsin – AFP Vice President of Education
Dawn Groshek, Owner, Groshek Associates, LLC – AFP President-Elect
Erik Richardson – Director of Development, United Performing Arts Fund – AFP Treasurer 
Dawn Hutchinson-Weiss, Owner, Good Flow Enterprises – AFP National Philanthropy Day
Amy Rowell - Director of Resource Development, Cathedral Center – AFP Director-at-Large
Hannah Harris - Grant Program Manager, Milwaukee Habitat for Humanity – AFP Director-at-Large