San Antonio AFP ICON Inspires
Conference is Rewarding Experience for Scholarship Recipient
Heather Willette, Grant Writer, Bethesda Lutheran Communities
More than 4,000 fundraising professionals from around the world descended upon San Antonio, Texas to experience the 2019 AFP ICON fundraising conference March 31 through April 2. Thanks to an AFP Southeastern Wisconsin Chapter scholarship, I was one of those able to experience the constructive educational and networking opportunities the conference offered.
As grant writer for Bethesda Lutheran Communities, I found the sessions "Nine Ways to Turbocharge Your Grantseeking" and "The Case for Support: Using Unexpected Stories and Sticky Ideas to Engage Supporters" most applicable to improving my grantseeking efforts. Notable takeaways included the need to: build my company's visibility quotient (you get more grants when people care about you), reexamine my ratio of sustaining versus investment grants (go to fewer foundations with bigger ideas) and develop key anchors in a case for support to aim for success (visual, auditory, olfactory, kinesthetic).
Other sessions covering topics such as practicing gratitude, cultivation techniques, storytelling, prospect research and tips for introverts were also informative and engaging. The most inspirational quote from the conference came from Mr. Rogers and was shared in the Practicing Gratitude session: "All of us, at some time or other, need help. Whether we're giving or receiving help, each one of us has something valuable to bring to this world. That's one of the things that connects us as neighbors – in our own way, each one of us is a giver and a receiver."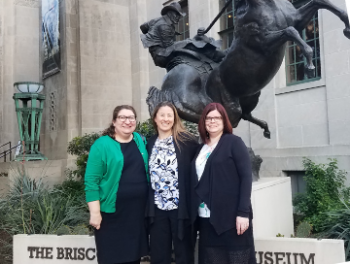 The Viva Fiesta! social event brought everyone together to network in a fun way. The event showcased San Antonio culture, provided food stations with delicious local fare and allowed the opportunity to explore the Briscoe Western Art Museum. I not only met other fundraisers, but was also able to connect with fellow scholarship recipients, Lisa Pieper with the Milwaukee Public Museum and Amy Rowell with Cathedral Center Inc. My time with these two remarkable women throughout the conference was very enjoyable and I am proud to now consider them friends.
While colder than expected (50s and windy – not much different than Wisconsin!), I also had the opportunity to explore San Antonio and learn about its 300-year history through taking narrated boat tours, exploring the sacred Alamo grounds, dining with Lisa at Casa Rio, the first restaurant to open on the River Walk, and even participating in an evening ghost walking tour to hear about the 'darker' side of San Antonio's history.
All these moments combined for a truly memorable experience. I sincerely appreciate the chapter scholarship that facilitated my attendance. This conference is just one of many reasons that AFP membership is well worth the investment. 
Photos include Heather having fun exploring the different vendor booths in the conference exhibit hall and participating in fun photo opportunities such as crowdrise's Decent Human. Lisa Pieper, Amy Rowell and Heather in front of the Briscoe Western Art Museum.