Philanthropic Leaders Honored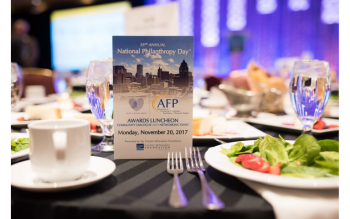 The Association of Fundraising Professionals of Southeastern Wisconsin (AFPSEWI) Announces Awardees for National Philanthropy Day® 2017
Philanthropists strengthen the community by enabling innovation, inspiring engagement and spreading goodwill. On Monday, November 20, 2017 the Association of Fundraising Professionals of Southeastern WI (AFPSEWI) will honor individuals, organization and volunteers who improve our community at its annual awards ceremony, National Philanthropy Day®, presented by the Greater Milwaukee Foundation. The awards luncheon and afternoon panel discussion, presented with media sponsor the Milwaukee Business Journal, will celebrate philanthropy, and highlight its impact on improving our society and advancing our economy.
The following awardees are being honored at the event this year:
Cindy and Roger Schaus, nominated by Life Navigators, for the Evan P. Helfaer Donor Award for distinguished service in sharing resources with charitable organizations.
 
James H. Basler (presented posthumously), nominated by Community Memorial Foundation, Menomonee Falls, for the Leave a Legacy Award for commitment to the community through a documented planned gift;
 
MGIC (Mortgage Guaranty Insurance Corporation), nominated by Milwaukee Habitat for Humanity for the Wisconsin Organization Philanthropy Award for outstanding record of philanthropic leadership;
 
Erin McBriarty, nominated by Ronald McDonald House Charities of Eastern Wisconsin for the Philanthropic Youth of Today Award for the significant difference through philanthropic leadership;
 
Dan Mueller, nominated by AIDS Resource Center of Wisconsin for the Scott M. Cutlip Professional Fundraiser Award for professional distinction as a fundraising executive; and
Paul Eberle, nominated by Guest House of Milwaukee for the Todd Wehr Volunteer Award for sustained volunteer dedication in raising philanthropic funds;
Join us as we recognize these awardees at the 39th annual National Philanthropy Day® luncheon, Monday November 20, at the downtown Milwaukee Hyatt. More information will be available at afpsewi.org in September. Have questions? Please contact Erin Richardson at chapteradmin@afpsewi.org or 414-399-0281. 
The Association of Fundraising Professionals (AFP) is the professional association of individuals and organizations that generate philanthropic support for a wide variety of charitable institutions. Founded in 1960, AFP advances philanthropy through its 33,000 members in more than 244 chapters throughout the world. AFP Chapters throughout the US and Canada will celebrate National Philanthropy Day in November. The Southeastern Wisconsin NPD event is one of the largest in the nation, with over 600 guests anticipated.