Our Chapter Tops the Nation!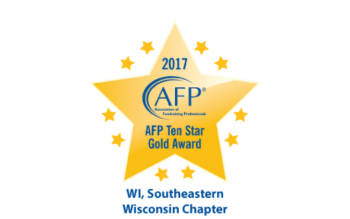 Wisconsinites love a bargain and the recent AFP Membership Promotion was just the ticket!  The Southeastern Wisconsin Chapter was recognized by AFP Headquarters for registering the most new members – 12 – during the June membership promotion.  Included in those numbers were our three newest members who applied and received a membership scholarship through our chapter funds.
Congratulations and welcome to Holly McCoy, Literacy Services of Wisconsin, Hannah Offerman, Prevent Blindness, and Dana Leair, Humane Animal Welfare Society.  These member scholarships were provided in part through our chapter grant from the AFP Foundation.
Another membership promotion is scheduled in conjunction with National Philanthropy Day in November.  Watch for announcements and share with peers who have yet to join AFP.