An NPD Nomination Can Lead to Great Things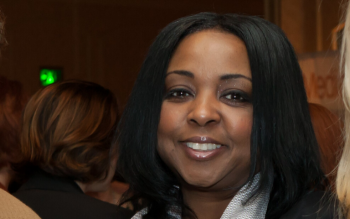 There is still time to nominate your favorite volunteer, your top donor or a well-respected fundraising colleague for a National Philanthropy Day Award. The process is easy and the rewards to your organization are priceless! If you're skeptical check out what AFP member Shavonn Montgomery Brown has to say.
The accolades and recognition that our organization and awardees receive prior to and during the luncheon is priceless.
Girl Scouts of Wisconsin Southeast (GSWISE) has partnered with AFPSEWI to elevate the importance of philanthropy through National Philanthropy Day (NPD) for many years. 
We feel being a part of this event is one of the most unique opportunities in our area to showcase the extraordinary contributions of our donors and volunteers, who not only make a difference to our organization but are making lasting change in the community and in the lives of others.
The accolades and recognition that our organization and awardees receive prior to and during the luncheon are priceless. The multi-media coverage, website recognition, and names for our Partners in Philanthropy (PIP) in the event program help showcase the passion our awardees have for our organization and mission. This public recognition also allows us to demonstrate our appreciation to our supporters, not to mention the visibility our organization and donors receive with an audience of over 500 community leaders, professionals, and philanthropists who attend the NPD awards luncheon.
In recent years two of our nominees have been selected for the Philanthropic Youth of Today Award. The nomination process is always very easy, and our awardees, who have dedicated themselves to making the world a better place, are always so happy, thankful, and often surprised to be honored for their work in the community.
GSWISE is very proud of the ongoing partnership we have with the AFPSEWI. Participating in this event has always been an effective way to network with other philanthropists and helps us build foundations for closer relationships with our donors. It also helps us to enhance the importance of philanthropy and volunteerism in Southeastern Wisconsin.
Shavonn Montgomery Brown
Philanthropy Manager
Girl Scouts of Wisconsin Southeast
Don't delay! Nominations are being accepted through April 30th