Meaningful Diverse Inclusion
Thinking beyond The Importance and Opportunity of Diversity and Inclusiveness in Fundraising
AFP members tuned in on January 28 for a webinar where diversity-focused fundraisers shared case studies and discussed the importance of and opportunities provided by, inclusion in the charitable sector.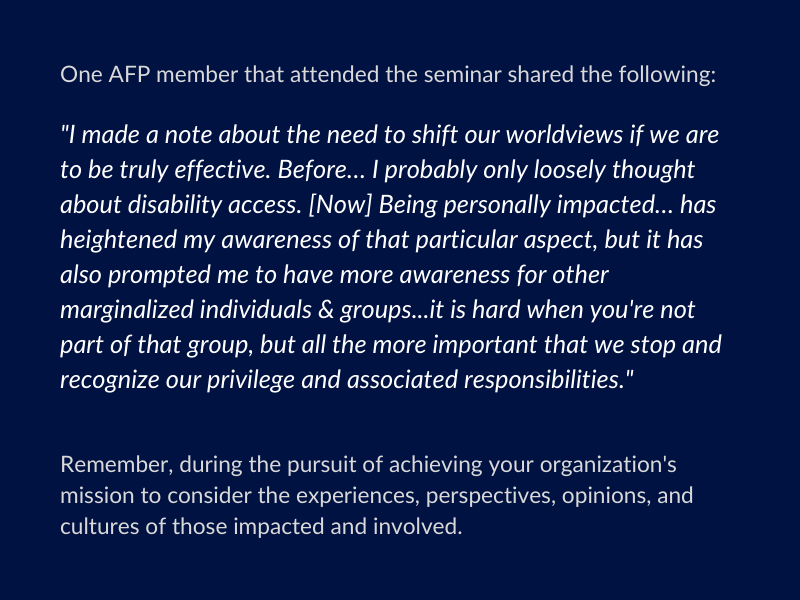 Diversity is the seeking and achieving of a broad representation of experiences, perspectives, opinions, and cultures. Inclusiveness is an essential source of vitality and strength for the effective pursuit of an organization's mission. Simply put, diversity is the mix, and inclusion is getting the mix to work well together. 
In the first case study, the AFP Foundation for Philanthropy Canada received a three-year grant to organize a series of conferences to bring together donors, fundraisers, volunteers, and charity leaders to discuss their experiences in the nonprofit sector with race, ethnicity, ability, gender, sexual orientation, religion, and more. Recurring issues and themes expressed that relationship building is important and it can take a long time to build trust. But be sure to reflect the community you serve at ALL levels of your organization.  
In the second case study, Anne Brennan, director of development for the Triangle Radio Reading Service who is legally blind, shared information on engaging people with print disabilities. Successful engagement means knowing your audience and ensuring participation to the best of your ability. Examples include providing materials ahead of time in a format that is easily obtainable and asking for input on how best to provide those resources. 
Gina M. Flores, Senior Advancement Officer for the Smithsonian Latino Center, encouraged listeners in the third case study to move away from a 'one size fits all' approach. When targeting a specific constituency, know your community. Start young. Ensure they are on your board. Invite them to your events. Have them review your materials. Know who has a stake in the community you are seeking to engage and discover who is funding them. 
In the fourth case study, Krishan Mehta, Executive Director, Campaign at Ryerson University, studied high net worth immigrants in Canada. A common issue was the 'emptiness of the gala'. Many charities organize an ethnic-themed night and will ask someone in that community to chair. They may have had great intentions, but there was little engagement other than asking for money. How else are we trying to engage these donors? 
After the webinar, attendees broke out into groups to discuss. Key insights included:
It's not an overnight process.
Don't bring people on board just to check a box. Get to know the community.
Relationships are key to developing a diverse pipeline of development professionals.
Providing materials ahead of time is a simple way to be inclusive and can impact people with learning disabilities, those for whom English is not their first language, etc.  
Your AFP plans to keep the diversity conversation going! Stay tuned for more details. 
---
Contributed by, Heather Willette, AFPSEWI VP of Education, and Grant Writer, Bethesda