Jevita Brister Honored with AFP Foundation Scholarship
AFPSEWI member chosen a 2019 national Diversity Scholar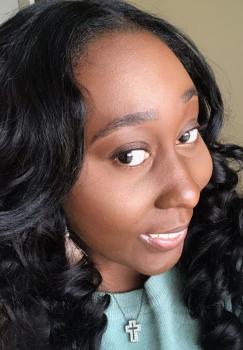 When Jevita Brister attends the AFP International Conference in San Antonio this spring, she will represent more than the Southeastern Wisconsin chapter; she'll also represent AFP's brightest hopes for an increasingly diverse fundraising profession.
Jevita was recently selected to attend the conference as a 2019 AFP Diverse Communities Conference Scholar -- one of just a handful of AFP members nationwide honored with a $1500 Diversity Scholarship from the AFP Foundation for Philanthropy.
An expression of AFP's commitment to diversity and inclusion, Diversity Scholarships are given annually to stimulate the professional development of members who are themselves members of a diverse community or are employed by grassroots organizations that primarily serve such populations.  As a young African-American woman working as a philanthropy relationship manager for the Girl Scouts of Wisconsin Southeast, Jevita qualifies on both counts.
She also qualifies, of course, because of her own continuing actions in the cause of diversity and inclusion.  Jevita's college dissertation research examined the profound effect that working under non-diverse leadership has on ethnically diverse and disabled women leaders in higher education.  Also while in college, she partnered with the Mansfield Institute of Social Justice to organize a screening and forum discussion of "Woke Up Black" by Mary Morten, a documentary featuring the stories of six adolescents and their quests for inclusion.  She recalls the subsequent conversation, touching on LGBTQ advocacy, academic support for first generation college students, and the impact of socioeconomic disadvantages and family support, as a highlight of her college experience.
Jevita's commitment to diversity and inclusion has continued throughout her professional career. She says, "As a visionary and doer, I find true value in communities that host many cultural backgrounds, possess stakeholders of varying levels of experience, and are unified in the charge to be a part of change that is bigger than themselves."
Jevita currently serves on the AFPSEWI Marketing Committee and is a frequent contributor of the chapter's monthly column in the Milwaukee Business Journal.  Before joining the Girl Scouts, she was a donor relations associate in the University Advancement Office.  She is a graduate of Roosevelt University in journalism and holds a master's degree in Leadership and Public Service Administration from the Marquette University Graduate School of Management.
Jevita is excited to attend the 2019 AFP International Conference, which she expects to "enhance my professional acumen in the field of philanthropy, expand the culture of philanthropy in my organization and afford me the opportunity to foster relationships with others who are also passionate about philanthropy."