How Do You Use Metrics to Drive and Gauge Success?
AFPSEWI roundtable discussions show you how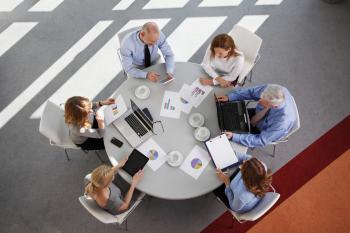 More than 30 attendees gathered on March 25 to learn how to track and use metrics through the following roundtable opportunities. 
Jennifer Mehr of Riverwest Food Pantry found Rikki Harry's enthusiasm during Annual Giving Metrics infectious! She came away with new thoughts on applying metrics to RWFP's budding fundraising programs. Measuring factors of engagement such as volunteer effectiveness and in-kind donors were also presented. Rikki shared how she implemented a separate reply mechanism for larger donors last year at Pathfinders, where the lowest gift choice is $1,000 - their average gifts more than doubled from 2019 to 2020! 
In Donor Metrics for Both Big and Little Shops, Lisa Pieper with the Milwaukee Public Museum guided participants in defining and quantifying different levels of giving. She provided a roadmap to success through suggested portfolio tiers and corresponding time allocations. She also shared sample charts and reports to track various metrics. Heather Willette of Bethesda Lutheran Communities particularly appreciated the donor strategy chart that maps out potential donor interactions throughout the year. "While this chart was developed for individual donors, I feel I can apply the same concept to my foundation interactions as a grant writer," Heather said. "I'm really looking forward to trying it out."
Karen Herzog's favorite nugget came from Modern Day Grant Metrics with Catherine (Draeger) Pederson: "Foundations are looking for the same partnership and relationship with you (the nonprofit) as you have with those you serve." Karen also appreciated Catherine's take on handling "bad things" that happen – simply put, honesty is a core tenant to a strong donor/funder relationship. She also stressed the importance of empowering your volunteers to be storytellers and helping them share what about your organization's work compels them to want to be part of it.
During Special Event Metrics with Sara Bruesewitz of Children's Hospital of Wisconsin, Lisa Attonito with Women's Fund of Greater Milwaukee heard about the new event landscape caused by the pandemic and how the need for revamped measurables in a digital world is all the more important. Lisa's favorite highlights were: 1) identify event KPIs and be ready to show the data post event, and 2) goals and objectives that are smarter are better. Understanding how to best track information will create data to better gauge event participation and access – through google analytics (Lisa learned there are free courses via Google Analytics Academy), ad tracing, registration forms, and more. Digital impressions measured through website traffic, social media, and other platforms will present valuable data to drive event structure.
Nancy Ketchman with Carroll University enjoyed Anita Rodriguez's Personal Goals and Metrics. "Anita laid out eight clear steps to set and measure your goals," Nancy said. 
Vision. Journal, make lists, create a vision board. 
Where am I today? Use SWOT method (Strengths, Weaknesses, Opportunities, and Threats). 
What is missing from my competencies?  Research other people who are great at doing the thing you aspire to achieve. 
Prioritize. Which changes can make the biggest dent in achieving my vision? 
Set SMART goals (Specific Measurable Attainable Realistic Time-bound). 
Develop a plan of action. Be specific and include deadlines. 
Measure your behavior. If you're nervous talking to new people, measure your heart rate each time doing so and track your progress getting comfortable over time. 
Celebrate your progress! 
Stay tuned for more great educational offerings from AFP!