Here's What You Missed - "It's Time for White Women to Step Up for Racial Justice"
AFP Global webinar provides thoughtful call to action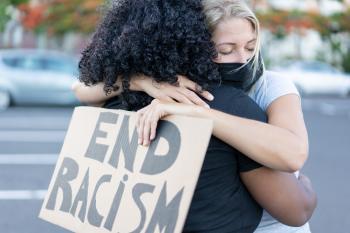 On Tuesday, October 6, AFP Global hosted a live webinar titled, "It's TIME for White Women to Step Up for Racial Justice." The co-presenters were Alexis Kanda-Olmstead, director of advancement talent management at Dartmouth College, and Brianna Boggs, executive coach and consultant at Brianna Boggs Coaching and Consulting. The presentation and conversation centered around data and key concepts taken from "The State of Black Women in Corporate America" by Lean In and McKinsey & Company. Including:
Black women receive less support from their managers compared to white women
59% of Black women have never, not once, had an informal interaction with a senior leader at their company
Black women are paid less than white men, and white women
White employees (men and women) see themselves as allies - but Black women disagree
But the session wasn't simply a report out. Clear action steps were shared. Including:
Get clear on your why
Identify your spheres of influence
Increase your racial resilience
Develop your phone-a-white-friend network
As it relates to donors, attendees were reminded to engage donors of color and fundraise for initiatives that combat racial inequity while also offering culturally-relevant programs and events. For maximum success, support from all levels within the organization is required.
Following the webinar, on Monday, October 19, Amy Rowell, director of development at Guest House of Milwaukee and AFP Southeastern Wisconsin Chapter board member, hosted a Free For(u)m for Fundraisers session, with special guest Lisa Attonito, executive director at Women's Fund of Greater Milwaukee, for approximately one dozen local fundraisers. The candid conversation began by clarifying some of the key terms and highlighting the importance of word choice. Amy and Lisa talked openly about the importance of engaging in conversations about race - specifically, the responsibility that white women have to do so. Both shared how they personally and through their organizations are creating space for and initiating change. Those present joined the conversation and developed a list of recommendations to share with the full board. Our Chapter has made a commitment to taking action and invites all those interested in getting involved to get in touch today!
Download webinar slides and racial justice action plan worksheet
AFP members can watch the recording of the October 6 webinar. Simply "purchase" online and watch at your leisure. 
Please note: If you have not registered for an AFP course before, you will need to create a free account in Blue Sky (AFP Global's learning management system). This login is different than your AFP member login.
This webinar is administered by AFP Global. If you have any questions please call 800-666-3863 for assistance.
Watch "It's Time for White Women to Step Up for Racial Justice"