Getting to Know Your Chapter Members
Erin Richardson, Chapter Administrator for AFP Southeastern Wisconsin, Northeast Wisconsin, and Greater Madison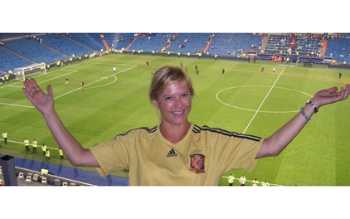 Title/Organization: Owner, In Its Place, LLC
How long have you been in fundraising?  I've worked with the Association of Fundraising Professionals for 5 years as an administrator.  I found out about AFP due to the ever popular job board.  I have worn the fundraiser's hat as Executive Director of the Jazz at Five outdoor concert series in Madison, and for similar community projects over the years.
Have you ever worked in another field (ie marketing, sales, finance, etc)?  Where do I begin?! I was an archaeologist in my twenties working throughout Wisconsin and the Great Plains. A favorite job was as an Event Manger at the Overture Center for the Arts. I've worked in the service industry as a server or bartender seemingly forever. I've been a lifeguard, soccer coach, intellectual property docketing clerk...somehow my life morphed from working outside far away from home each day to working from home all day. 
What superhero skill/trait would you pick? While teleporting would be awesome, the trip is sometimes half the fun, if not the best part of a day, so instead I'll choose the Wonder Woman ability to spin around like a superhero ballerina and be dressed and ready to go in seconds. (In my own clothes, but I'll take the red boots!)
What's the best vacation you've ever taken? In 2010 I traveled throughout Europe for 3 months – 9 countries, countless cities and towns.  I'd love to visit everywhere I went again, but was most pressed for time when visiting the Swiss mountains.  I had so little time to hike I ended up having to use a lighter to read the signs on the alpine trail to make my way, and when my camera was nabbed later in Italy, the only items not uploaded were from a spectacular train ride out of the mountains.  Clearly that one deserves a redo!
What are you most passionate about? Organization comes to mind. While that is boring and not very heart felt, if you know me well, you know it is a genetic disposition.  I used to organize my closets for fun in elementary school - enough said.
What is something that may surprise people to know about you? I am a huge International soccer fan. UEFA Champions League is my go-to so I can enjoy watching the best of the best from around the world. Also, the league's schedule is manageable for a busy woman like me.