Getting to Know Your Chapter Members
Michelle Fobair, VP Communications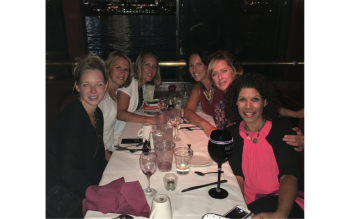 Title/Organization: Director of Development and Marketing,
Carmen Schools of Science and Technology
How long have you been in fundraising?  11 years
When did you join AFP? I think it was maybe 2010.
Have you ever worked in another field (ie marketing, sales, finance, etc)?  I started out in TV and radio, working in Promotions and Publicity
What superhero skill/trait would you pick? Maybe flying… or better yet, teleporting. This road construction is getting on my last nerve!
What's the best vacation you've ever taken?
Tie between my brother's destination wedding in Playa Del Carmen and a family vacation to Tucson when my kids were small. We piggy-backed that with a couple of days on the slopes in Salt Lake City.
What are you most passionate about? Kids—anything to do with kids. I came from Girl Scouts where the focus was on leadership and character development for girls; and now I work for an amazing charter school network with a mission to ensure that all kids have access to quality education.
What book are you currently reading? I am embarrassed to say that I honestly cannot remember the last time I read an actual book. I have two jobs, three kids and a few hobbies that consume all of my time. I do have a big stack of wish list books though…waiting for life to slow down so I can read them.
What is something that may surprise people to know about you? I am a fitness instructor at Xperience Fitness. I teach a cardio boot camp class and I am also a certified BodyPump instructor.
Other interesting tidbits: I am one of ten children—and we all live within 25 miles of each other. The picture I shared is from my 50th birthday…my sisters took me on a dinner cruise downtown.