Doing Our Duty for Diligent Do-Gooders Serving others is a benefit to all.
National Volunteer Month is time to say thanks -- and get involved!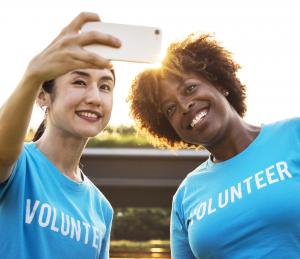 There are so many focus areas of awareness during the month of April: environmental causes including Earth Day, various health causes, and, of course, it's National Volunteer Month.
Volunteers play an indispensable role at every nonprofit. Even where they don't help deliver programs, volunteer leaders make up every nonprofit board.
Last year, studies recorded that each volunteer dedicates 52 hours a year to volunteering. Nationally, the estimated value of each of these hours is more than $28, which means that each of these volunteers provides more than $1400 worth of service to the community each year.
That's just the good they do for the community. It doesn't count the good they do for themselves. According to the Mayo Clinic, volunteering "improves physical and mental health, provides a sense of purpose and teaches valuable skills, and nurtures new and existing relationships.
Without these millions of valuable individuals, nonprofits would be unable to fulfill their missions. Therefore, during the month of April, we local fundraising professionals send a very loud and proud THANK YOU to our Greater Milwaukee Area volunteers. We couldn't do it without you!
Where might you make a difference? Ask your local nonprofit!
 
On Philanthropy appears monthly in the Milwaukee Business Journal for the Association of Fundraising Professionals, Southeastern Wisconsin Chapter. This month's column is contributed by Leona S. Knobloch, Development Director with Ozaukee Washington Land Trust, MBJ 40 under 40 Alum (2011).