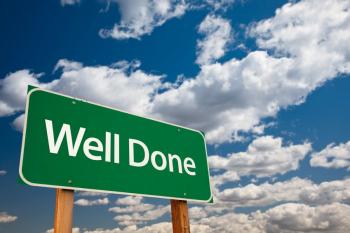 Our members are amazing! Every day they do things that make a huge impact in our community and the world. See what AFP Southeastern fundraisers have been up to.
Do you have something special to share for Member Kudos? We want to hear about it. Share your "well done" news with us here. Ideas include:
Job changes or promotions
Unique grant or funding accomplishments
Honors or awards for you or your organization
An impact story
---
June 2021
Sarah J Malchow, CFRE, was recently promoted to Vice President of Development at Cedar Community, a full continuum of care senior living community located in West Bend, WI. In her new role, Sarah will be responsible for: achieving sustainable occupancy census of more than 650 total units; driving more than $30 million dollars annually in sales and service revenue; crafting the brand narrative with internal and external stakeholders; and driving fundraising strategy and donor development efforts.
Kudos to Amalia Schoone, CFRE! Not only is she a fantastic fundraiser, she supports the community with her volunteer work. Thank you Amalia, on behalf of all PD members!
Congratulations to Doug Diefenbach for his new position at Snavely Associates. As Vice President of Strategy & Brand, Doug will oversee campaign messaging strategy development, creative editorial operations, and client staff/volunteer training services for Snavely Associates, a national consulting firm that helps nonprofit institutions inspire and compel their major donors and broader constituencies, usually in the context of major fundraising campaigns.
---
APRIL 2021
Karen Herzog is hanging her own shingle as a storyteller / grant writer / founder of the consulting firm Words that Move LLC. Karen made the shift from career journalist to director of grants and communication for the Wisconsin Conservatory of Music in January 2019, and will always treasure that learning experience. She is grateful to her amazing colleagues in the AFP grant writers group for their inspiration and wisdom.  Her website wordsthatmovematter.com is under construction. 
Emily Santeler has accepted an exciting new role as Advancement Associate at Milwaukee Symphony Orchestra. With her background in Music and Nonprofit Arts Management, this is the perfect fit. We wish Emily well in her new role!
Becca Surges has received a generous scholarship from the TEMPO Milwaukee Foundation to enroll in Amy Eisenstein's Mastering Major Gifts year-long program. Becca is grateful for this professional development opportunity, which wouldn't be possible without the incredible support of TEMPO Milwaukee!
Erin Richardson is "retiring" as AFP's Chapter Administrator to work full-time as the Managing Director for the Milwaukee Jazz Institute (MJI). MJI was founded by Erin and her fiance in November of 2019. Kudos to their successes in fulling the mission of their nonprofit despite the challenges of COVID.
---
FEBRUARY 2021
A shout out to the one and only Amy Blumenthal, CFRE for being fabulous. Amy was promoted to Vice President to Ter Molen Watkins & Brandt one year ago and since then has helped countless people to revamp and reenergize their fundraising programs. Amy serves on the AFP Marketing Committee and is an AFP Mentor. She is always willing to help others and we feel so grateful for her generous heart.
---
JANUARY 2021
AFP member, Becca Surges, has been selected for AFP Global Women's Impact Committee beginning in January 2021. The Women's Impact Committee focuses on advancing equity for women in the philanthropic community. AFPSEWI is proud to have Becca represent our chapter on a global scale.
On behalf of AFPSEWI, we thank our outgoing board members, Lisa Breitsprecker, Doug Diefenbach, Michael Frohna, Shavonn Montgomery Brown, and Nancy Seidl Nelson for their time, efforts, and valued leadership over the past several years. The talents and skills they brought to the table had a tremendous impact on the chapter reaching its goals.
AFPSEWI would also like to welcome our new board members, Rikki Harry, Amanda Stahmann, and Heather Willette. We look forward to continuing to advance philanthropy and the fundraising profession together.
---
KUDOS TO ALL OF US FOR GETTING THROUGH 2020!
DECEMBER 2020
St. Thomas More High School, a nonprofit high school serving over 500 students on Milwaukee's south side, proudly announces that the school's one-day GivingTuesday campaign has raised nearly $20,000, with a median gift of only $100.
Featuring video testimonials from school administrators and a parent volunteer, St. Thomas More's GivingTuesday campaign raised funds to increase the connectivity within our school community, allowing students, parents, alumni, and other guests to participate in live events while maintaining safe physical distancing.
---
SEPTEMBER 2020
Congratulations to Sarah Malchow, Director of Philanthropy for Cedar Community, who achieved the CFRE certification in September. Congrats to her on CFRE success!
The American Red Cross Southeastern Wisconsin Chapter is pleased to welcome Jennifer Clearwater, CFRE to our staff as a Regional Philanthropy Officer!
We have the unfortunate news of sharing the recent passing of Leslie Seib, Vice President of the Herzfeld Foundation. A number of our chapter members have worked with her. Her family asked that this sad news was shared with this professional part of her life - "we are a community and thought people should know." Kudos to Leslie's legacy and our heartfelt best wishes to her family and friends as they grieve.
---
AUGUST 2020
Amalia Schoone, CFRE, In Progress Consulting LLC will soon become Chair of the Professional Dimensions Charitable Fund Board of Directors, Professional Dimensions - Charitable Fund, and has been re-elected to the Board of Impact100 Greater Milwaukee.  Both organizations engage women as philanthropists and agents of change.
Congratulation to Rikki Harry, Senior Manager of Individual Giving at Pathfinders who passed her CFRE exam at the end of July!
Michelle Holt, Director of Advancement reports that after a two-year training process, DogsInVests, Inc. has placed our first service dog Ace with his recipient.  It is an exciting milestone for their organization.
Congratulations to Lisa Dietz, who recently joined the Waukesha Catholic School System as Development Director replacing past AFPSEWI board member, Nancy Nadolny, who recently retired.
The Board of Directors of Cream City Foundation (CCF) is excited to announce the selection of Gary A. Balcerzak, as its President and CEO. Balcerzak started his new position in July and succeeds Brett R. Blomme, JD, who left the organization to assume a position as Circuit Court Judge in Milwaukee County.
St. Anthony School of Milwaukee wants to recognize new AFP Member, Gretchen Zyduck. Gretchen is a 4th grade teacher that has transitioned to their Advancement Department. She has been an incredible addition to this team, helping them bring in over $100,000 in support for the school community during the COVID-19 crisis. 
Thank you and way to go, Gretchen! 
Love, your St. Anthony Familia
Nicole Pretre of  Cedar Community is one of the winners of the Milwaukee Business Journal's C-Suite Awards – specifically she was one of 7 winners of the Chief Marketing Officer Award. She will receive her award at the "virtual" event on Friday, August 21 and will be featured in the CSuite edition of the Business Journal.
Carroll University has named Victoria Dowling as its vice president of Institutional Advancement. Dowling served as the senior vice president at McKendree University, in Lebanon, Illinois, where she was responsible for the management and oversight of the Development, Alumni and Parent Relations Office, university communications and marketing, and other key functions. She assumed her role at Carroll on Aug. 3.
Catholic Memorial High School was just announced as the 2020 Large Nonprofit of the Year by the Waukesha County Business Alliance. Catholic Memorial was recognized for demonstrating strong business practices, excellent customer service, a legacy of serving the community, a commitment to its employees, and positive financial performance. In addition, Catholic Memorial was highlighted for the success of the pilot year internship program and being a nationally recognized leader in STEM education – one of only 144 schools in the country to be named a School of Distinction by Project Lead The Way and the only school in Wisconsin to earn the distinction for three consecutive years. For more information about the awards visit: https://www.waukesha.org/2020-waukesha-county-award-winners-announced/
---
JULY 2020
Prudence Precourt, CFRE recently started as Research Grant Specialist at Rogers Behavioral Health - congratulations Pru!
Congratulations to the Milwaukee Jazz Institute for reaching 1000 participants through online workshops they began in response to the safer-at-home order in March.
---
JUNE 2020
Congratulations to AFPSEWI member Sarah Bernstein for being the recipient of Apra's 2020 Distinguished Service Award. The news was shared with members at the annual business in early June. You can read more here: https://www.aprahome.org/page/apra-awards
Rebecca "Becca" Surges has accepted a new role as Director of Philanthropy and Communications at St. Vincent de Paul Society of Milwaukee - a nonprofit organization dedicated to eliminating poverty and hunger throughout Milwaukee County. Becca's new work email is rsurges@svdpmilw.org.
---
MAY 2020
Kudos to Amy Rowell for a fabulous interview on The Morning Blend about Guest House services during the pandemic and how she and the team are pivoting their important supply drive, the Undy 500. 
Congratulations to the Milwaukee Jazz Institute (MJI) for receiving 501(c)(3) status, only two weeks after applying! Who knew the IRS was a fan of jazz? MJI has reached new audiences across the country and as far as Mexico, Scotland, England, Croatia, and New Zealand with their online workshops that feature Milwaukee's premier jazz artists.
Thank you to Heather Willette of Bethesda Lutheran Communities.  In response to the COVID-19 crisis, Heather converted the AFP monthly Grant Group meeting to a weekly Zoom call, to gather and discuss the changing environment and new emergency funding opportunities that were becoming available.  She has provided solid leadership to this group and is a fantastic representative of our chapter. Learn more about the Grant Group here.
A shout out to the YWCA of Southeastern Wisconsin for successfully transitioning their Circle of Women fundraiser to a virtual event last month.  Any AFP members who are interested in learning from the YW's experience can participate in the event debrief "Learning in the time of COVID-19" on Monday, May 18 at 1 pm.  Pre-registration is required. Register Here
Bravo to Make-A-Wish Wisconsin for successfully pivoting their Wish Night from a physical event to a virtual gala in early April, and maintaining a similar net revenue outcome.  Check out this document they created to learn more about their steps and learnings.